If you are unlucky enough to have missed the first part of this article, you can catch up here! 
For the rest of you, lucky ducks, I hope you are sitting comfortably. Let's get going: 
6# The average position
To compare results to competitors, Google has long been using the metric of Average Position. However, starting September, the firm will be sunsetting this approach. Here are some reasons for the change.
Let's consider an average position of 1.3, you would think that you are always at the top of the page, right? Mostly first, sometimes second, on the odd occasion third… and yet the reality is somewhat different. To understand these results a little better, we're going to show you 3 metrics that offer a much more accurate vision of reality: top of page rate, absolute top of page rate and lost impression share. 
Take a look at the following results:

Looking at these three measures, it's easy to see that some opportunities have been lost. Let's start with lost impression share. This figure simply shows the number of auctions your ad has lost. More than 2 out of 10 times, your ad is simply not displayed. Of these 8 times, top of page rate indicates that it is not positioned well 71% of the time. And finally, the absolute top of page rate shows that, of these 8 times, it is in first position 58% of the time. 
The reality is therefore as follows for the 10 auctions the ad has participated in: 
The ad is actually displayed less than 8 times out of 10

The ad is top of page less than 6 times out of 10

The ad is in 1

st

position less than 5 times out of 10
An average position of 1.3 suddenly doesn't seem as great, right? 😉 
Once the shock of this harsh reality has worn off, you have two levers at your disposal to improve your ranking: Quality Score and bid amount. 
7# Goal-Optimized Shopping Campaigns
A powerful tool that is not always easy to access. You need to set up e-commerce tracking and have a remarketing list of at least 100 active users to activate it, but the results we got for one of our clients speak for themselves: 
How can this evolution be explained? Goal-Optimized Shopping campaigns take the advertiser's optimised date and combines it with the data possessed by Google to contextualise the user's intention through machine learning. 
The result: Google displays the most relevant ad in terms of the query, time, place, frequency, price, etc.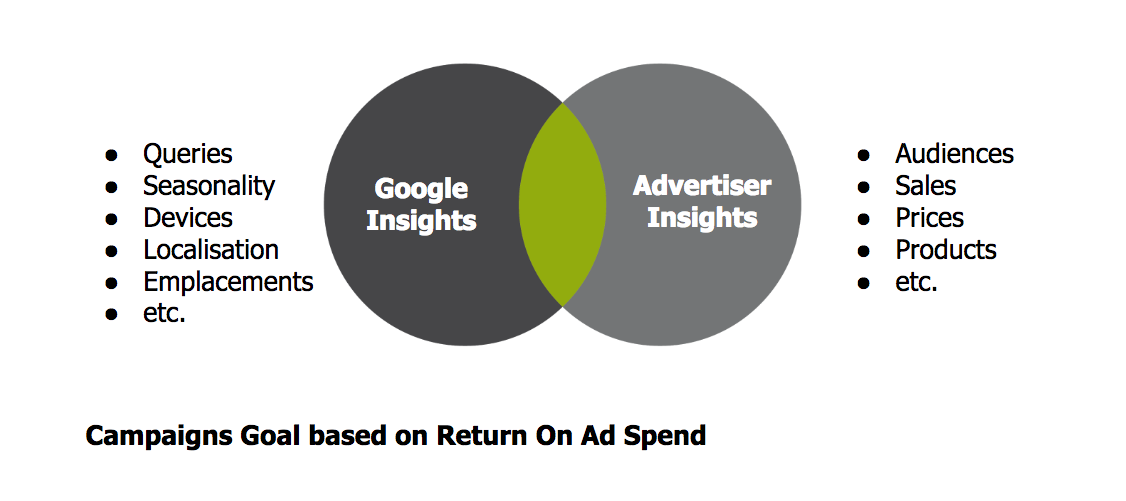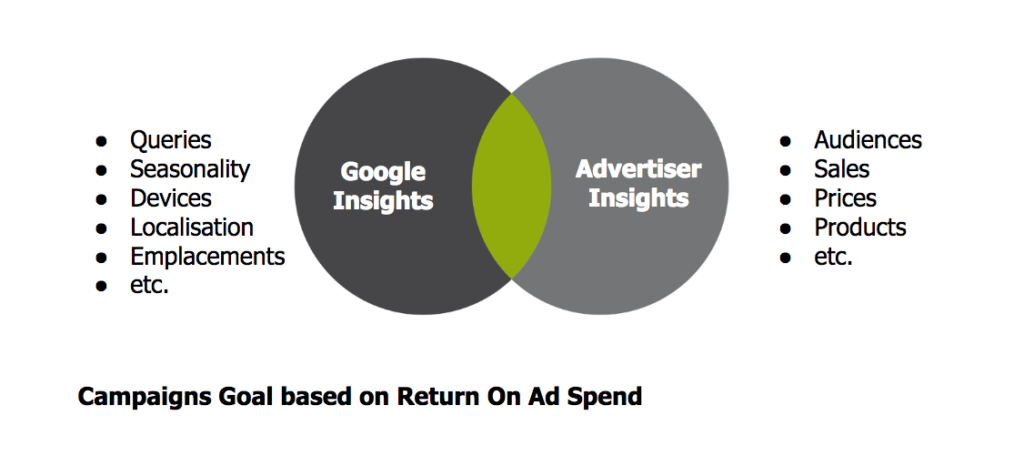 Another strength of this type of campaign is that your ads are distributed throughout every Google network, e.g, the Search network, the Display network, YouTube, Gmail and, recently, Google Images. Results have proven it to be a powerful tool that you need to test out as soon as possible. 
#8 (ab)use automated rules 
For the uninitiated, creating an automated rule may seem like a perilous exercise. The process is, however, very simple and goes as follows: 
Select an element to modify (campaign, keyword, ad, etc.)

Define an action to be performed

Decide when or how often the action should be performed
Yep, we know, that's quite a skeletal overview, apologies if that got anyone's goat, but we're going to focus on their various uses rather than their implementation. If you want to find out more about setting up automated rules, check out the resources linked at the end of the article. 
There are endless possibilities when it comes to automating the management of an account. We're going to show you 3 ways of saving your precious time by planning actions, managing bids and configuring alerts. Here are some concrete examples.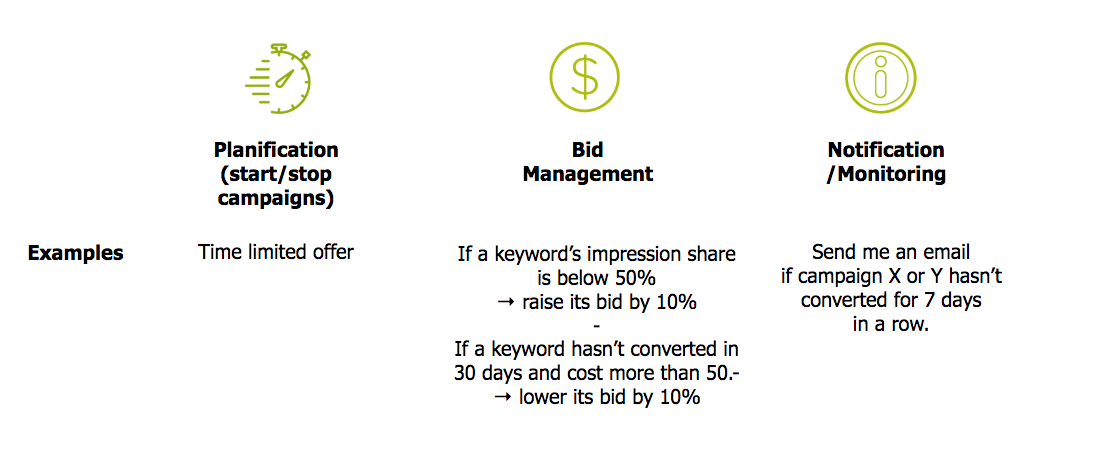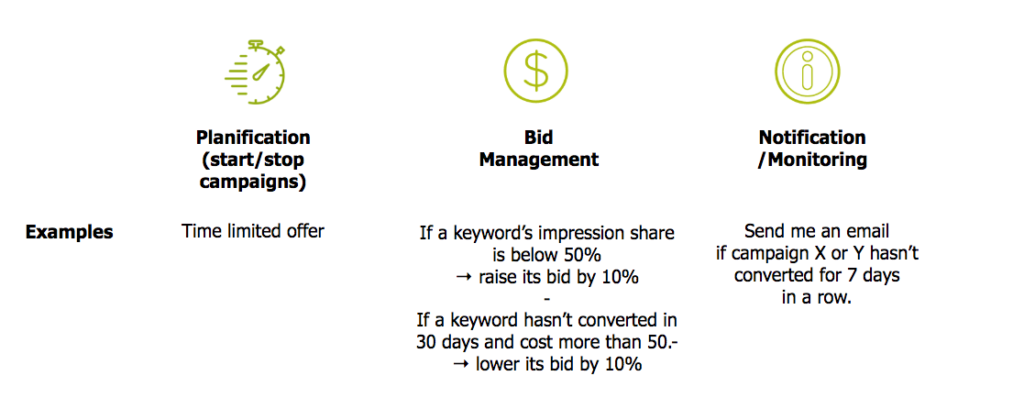 Planning a season-specific campaign or promotion
Do you have a time limited action planned? Are your campaigns written and ready to go online? Use an automated rule to activate and deactivate these ads at the right time. No more being on your computer by 6 a.m. on Monday morning to launch your campaigns 😉
Process :
Create a rule that activates your ad group for the start day and time. 

Create a rule that deactivates your ad group for the end day and time. 
Also works with Keywords. Just attribute a label to a series of Keywords that you want to pause/enable and use the label as a target.

And yep that's it. We told you it was a piece of cake 😉
Automated Bid Management 
There are several options for managing bids to meet your goals and budget. You can, for instance, automatically increase a bid whose impression rate is lower than 50% or decrease a bid with low ROI after 30 days. The sky really is the limit when it comes to defining the conditions and actions to be performed. 
Note: You can consider these rules as aggressive bidding strategies or as simple safeguards to ensure your budget is not inadvertently wasted.  
Notification and monitoring rules
A simple way to be notified when a campaign is not performing as well as expected or, conversely, to be informed when there is a sudden craze for a product/service. 
#9 Automate with Google Ads scripts
A script looks something like this: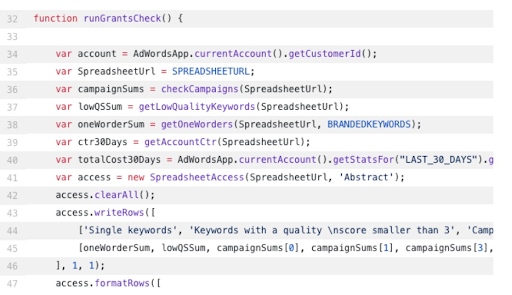 But don't be afraid. You don't have to be a computer nerd to draw the benefits of this trick. The generosity of many creators allows you to deal with a number of problems (which you sometimes ignore you have). We are therefore going to share 3 scripts that we, at Suisseo, particularly appreciate. However there are many more listed in the resources at the end of this article. 
If you would like to access scripts 2 and 3, or if you have any other questions, don't hesitate to contact us using our online chat or filling out our contact form. 
Ad Grants 
Created and shared by Vincent, Suisseo's Jedi Master, this script ensures that your grant account complies with the norms laid out by Google. It checks, for instance, that two ads are always active in each group and that keywords have a minimum score of 3. 
Check out this article to learn more about the script and its implementation, or read Laure's article on the new rules launched in early 2018 to find out more about the Ad Grants Program. 
Note: For the record, Search Engine Land published an article about this script in May 2018 entitled "A time-saving free script to help keep Ad Grants accounts out of trouble". 
Pausing campaigns when your site is down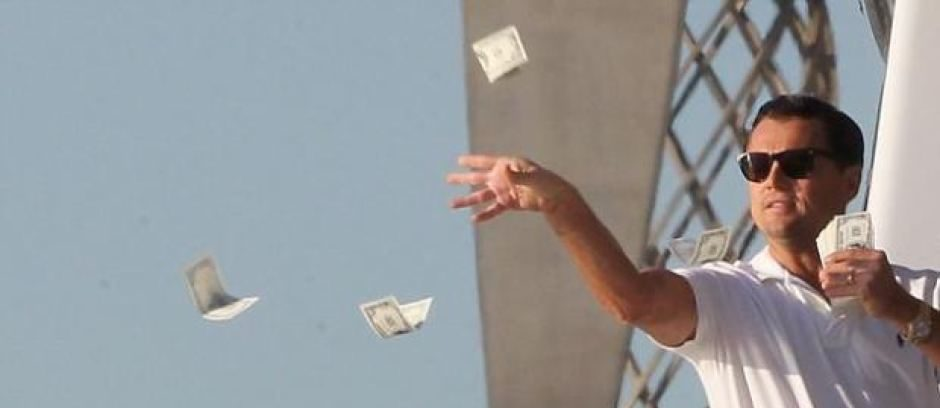 Paying for ads that redirect to a site that isn't working is to be avoided at all costs, particularly when you understand the importance of the first impression (yes, we probably could have made a pun here). This homemade script will automatically pause your campaigns when your site is down, protecting your potential clients from the trauma whilst maintaining your performances. Campaigns are, of course, automatically reactivated when the site is back up again. 
404 Link checker
The 404 page has become a veritable work of art for some websites, but it should still be used sparingly. This script scans the ad links and extensions that aren't working and notifies you about it, saving 404 for those users who are actually experiencing an operational error. 

PS: Go to the end of this article to see a 404 Page Top 33.
#10 Analysis calendar
Just like top athletes, talent is a good starting point, but regularity is what really pays off!
The more data we accumulate, the more precision we gain. We need to stay on permanent alert when it comes to the trends and potential low points of our campaigns. We are sharing here a generic calendar outlining the different reports you should be analysing, and how frequently you should do it, in order to take care of your newly acquired athlete's body!
Note: This is, of course, just an example. How often you need to check certain reports can vary a great deal depending on the size of your account, your activity type and the updates to your website.
Our overview looks something like this: 


Once a week
Search terms are pretty much the raw material of SEA. It therefore makes sense for us to inspect our ore regularly and separate the wheat from the chaff. Make good use of negative keywords to avoid paying for unqualified traffic, increase your click-through rate and, consequently, increase your return on investment. Adding new keywords and adapting your ads copy enables you to increase traffic and your Quality Score! 
Once a month
Analysing bids is the second pillar of an effective campaign management. Google Ads auction insight report lets you see how your ads are positioned compared to your competitors for the same keywords. 
You can generate a report for the account, campaign and ad group level. Below, you can see two ways this report is displayed: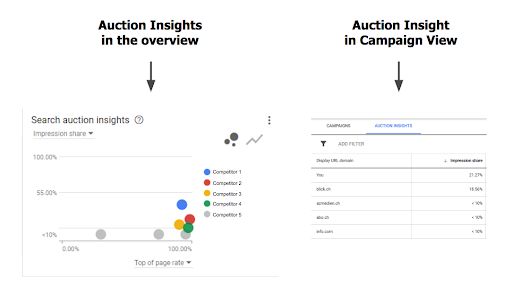 The following metrics are available:
Impression share

Average position 

Overlap rate

Position above rate

Top of page rate 

Absolute top of the page rate 

Outranking share
Note: 
Impression share is the number of impressions you received divided by the estimated number of impressions you were eligible to receive. 

Overlap rate is how often another participant's ad received an impression when your ad also received an impression.

Position above rate is how often the other participant's ad was shown in a higher position than yours was, when both of your ads were shown at the same time.

Outranking share is a percentage defined as the number of times your ad ranked higher in the auction than another participant's ad for the same bid. 
Once a quarter
Demographic reports and device reports are generally more stable, but just as important. We already talked about the topic in the first part of this article so we won't spend any more time on it now. It's all about your potential clients and where you meet online, so take a look at it from time to time. 
Once every 6 months 
We don't always think about it, but there are real differences between the Google search network and the search network partners. 

It can be a good idea to adapt your bids, or simply dismiss the search network partners, depending on the volume of impressions and clicks. To see the comparison, simply select "Network" in the "Segment" menu.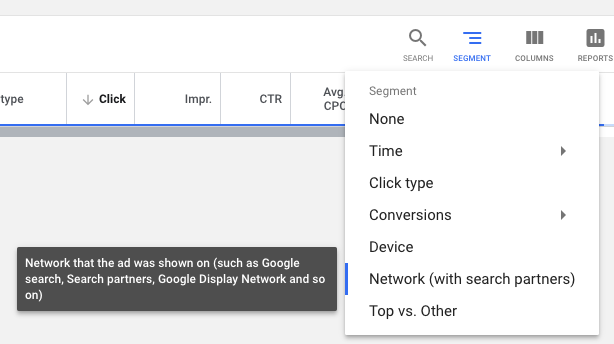 And there you go, that's the end of this top 10! 
We hope that this summary of our talk was useful! Below you can find a list of links that will help you delve deeper into the topic. Don't hesitate to get in touch if you have any questions about your Google Ads campaigns or your digital presence!
Resources and links:
Google Ad Grants Scripts – Free Google Ads Reporting 
Google Ad Grants Programme for NGOs and associations: the new rules to abide in 2018
404 pages: Check out the best error pages around
Take this Negative Keywords Quiz with 10 questions and see if you are a PPC Yoda!
A time-saving free script to help keep Ad Grants accounts out of trouble
Examples of commonly used rules