Summertime is a crucial period in the water sector. When there are high temperatures, business owners ensure the well-being of their employees, clients and partners. This results in high demand for water coolers  in summer months.

Therefore, Eden Springs wants to make the most of the summer period to attract new clients, increase sales and turnover through promoting special summer offers.
Context
Active for over 15 years in Switzerland, Eden Springs offers water and coffee solutions to professionals and individuals.
Their most popular products are bottled and mains-fed water coolers for professionals.
Target clients are composed of decision-makers within the French  and German speaking Swiss SMEs.
Goals
The Google Ads Account Manager at Suisseo has decided to launch a display campaign to reinforce existing online/offline communication strategies and to bring eligible traffic to a dedicated page.
Strategy 
The client was immediately convinced that  Display campaigns could help to increase his  business but had a limited media budget for this project.

As a result, Suisseo came up with a solution allowing for the launch of high added value campaigns whilst respecting the client's budget constraints. 
The agency knows that the client receives many orders during peaks in temperature.

Consequently, they decided to set up a Display campaign which would be activated based upon the weather.

This means the correct message can be addressed to the right person at strategic moments (during periods of high temperatures).

Technically, this is "moment marketing". This term is used to refer to marketing campaigns which are launched at a particular time based upon a favourable context.

For this project, the Suisseo programmers developed a bespoke in-house weather tool. This monitors the weather in 26 Swiss cantons and accounts for a number of parameters such as :

temperature 

sunlight

rain

wind 

cloudiness



The client developed 2 different scenario banners in French and German to send a personalised message to audiences based upon real-time weather conditions. 
The first set of banners was developed to promote a special offer on bottled water coolers. 
These banners will be activated when the sun is shining and the temperature is at least 22°. 
The second set of banners will be launched when the temperature surpasses 28° and the sky is clear.

When these banners are clicked on, internet users will find a guide giving advice on what to do in the case of high temperatures.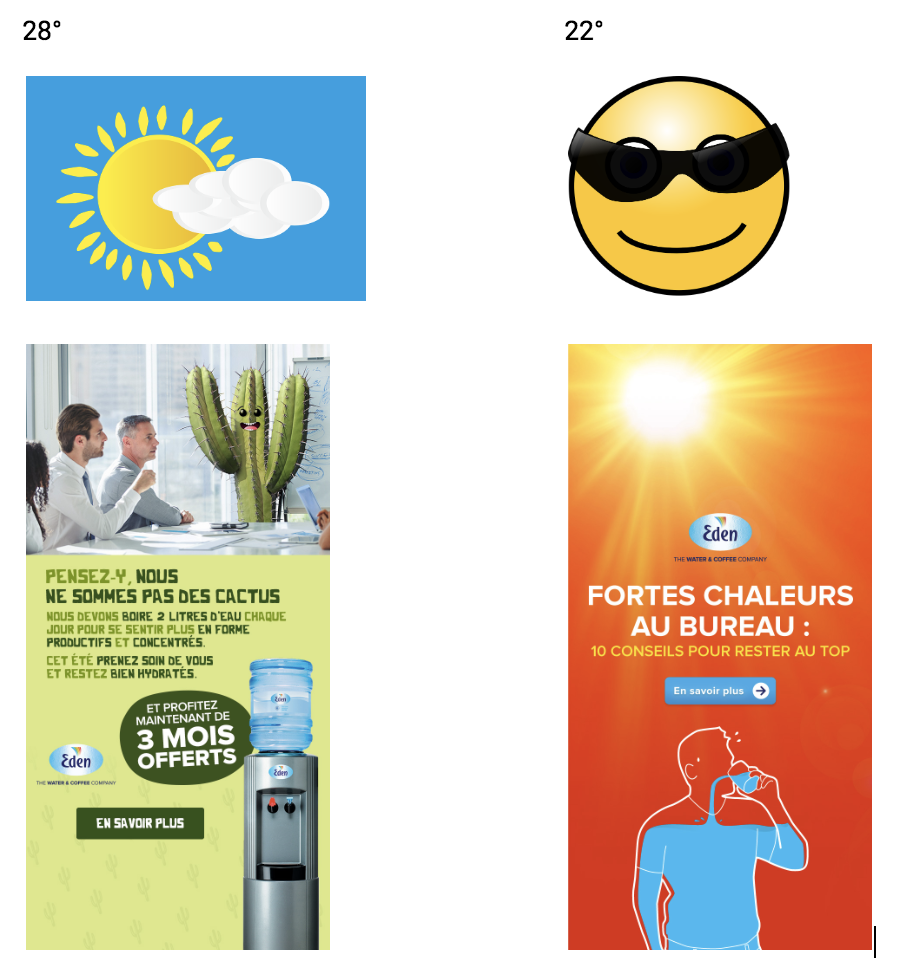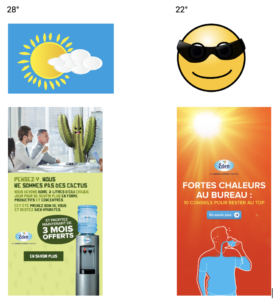 As our target audience is mainly composed of senior business managers, we have decided to stop the campaigns outwith office hours and over weekends.
The implementation of this timetable also resulted in a significant decrease in media spending. 
Results
In a period of 2 months, the display campaign generated more than 100 contact forms which is an excellent result for the niche sector.

The number of sessions on the Eden Springs site increased by 232% in July and August compared with the previous period.

Moment marketing has resulted in a reduction of the client's media fees of almost 65% compared with a "standard" Display campaign, whilst maximising audience exposure to the brand during key periods.